Welcome to the Higher ME project!
Created for the DGHE's School of Art and Design's latest art exhibition.
Join us to explore the student life of Graphic Design students through their projects. Inspired by the idea that everyone has a unique identity and creative style that sets them apart, our talented students and DGHE's wonderful Art & Design team created 5 unique posters for their art show. Each 'Higher Me' poster features the word 'Me' in a unique font that was created and represents the signature style of each student, showcasing their individuality and creativity.
Our practical education programs empower students to sharpen their skills and realize their full potential, making their mark in the world of design.
Join us and explore the endless possibilities of graphic design with our HND Graphic Design program.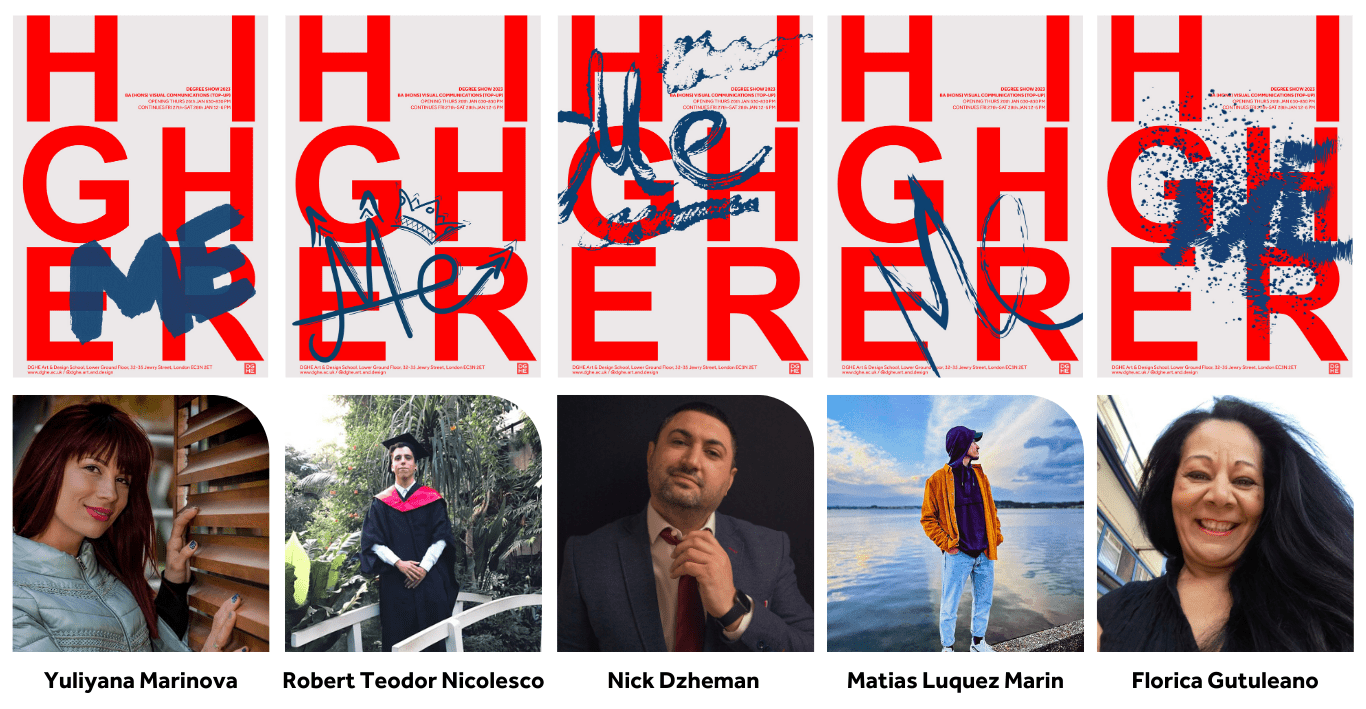 What about DGHE?
DGHE offers a small, welcoming, vibrant, inclusive and supportive learning environment that supports students to reach their full potential and advance their careers. We deliver high-quality, empowering education. Our lecturers offer industry experience and exceptional teaching talent, and students come from diverse backgrounds.
DGHE courses are delivered 2 days a week, evenings and weekends, to support a healthy study-life balance. Students get tailored careers and mental health support. HND, Top-Up, Foundation and Degree options let students break down the educational journey one step at a time. We offer small classes and 1-to-1 teaching. Those who study at DGHE will find a friendly and enriching atmosphere to do their best.
Do you want to study Art & Design?
We understand the importance of a supportive and nurturing learning environment for aspiring artists. Our School of Art & Design offers a unique experience where students are treated as individuals and encouraged to develop their own areas of interest. With smaller class sizes, our knowledgeable tutors are able to provide personalized guidance and support throughout your studies.
Our campus is in central London, close to many transit hubs, and features cutting-edge facilities, including Mac studios and print rooms, to support your creative growth. And with flexible course options, including HND, Top-Up, Foundation and Degree programs, you can progress at your own pace and find the best fit for your goals.
At DGHE, we strive to create a friendly and enriching atmosphere where students can develop their skills and reach their full potential. So if you're looking for an art school to support your growth and help you succeed in the creative industry, you just found it.
Contact us to enquire about our Art & Design courses
You can also call us on 020 3220 0347 or use our Live Chat right now!

BTEC HND Art & Design
The Higher National Diploma in Art & Design at David Game College is a fast track pathway to a successful career in the creative industry!
Check our HND Art & Design course
BA (Hons) Visual Communication (Top-Up)
Our BA Top Up in Visual Communications lasts one year and encourages students to explore various areas in the visual comms world.
Check our Visual Communication course