Adobe InDesign: Intermediate 2-day Short Course
Key Information
Campus: David Game College - London

Duration: 2 days (09:00 – 18:00)

Mode of Study: On-campus

Level of Study: Intermediate

Start Dates: 25th of July OR 1st of August

Awarding Body: DGHE
Overview
Join us on our 2-day intermediate course, where you will better understand Adobe InDesign. Designed to take your skills to the next level, this course goes beyond the basics.
This course builds on our 1-day beginners' course, and it is suitable for those with basic InDesign knowledge, giving you a more professional understanding of the software. From planning your documents more effectively to learning more advanced ways to combine text and images with advanced layout skills, you will learn a more professional mindset to bring to your work.
You will be taught the skills in class, and then you will take a small project from start to finish, taking your page layout and typographic skills further.
Whether you are a student, designer, marketer, or publisher, this course will give you the skills to set more professional documents, allowing your work or brand to shine.
All our on-campus short courses offer:
Access to our London campus facilities, including a fully equipped Mac room

Access to Adobe Creative Cloud and materials relevant to your discipline

Networking opportunities and the chance to share ideas with like-minded individuals and professionals

Real-time interaction with your tutor to ask questions and seek guidance

Feedback and critique on your work.
Modules
Who is this Course for
Outcomes & Further Study
Meet the Tutor
Available Dates & Pricing
How to Register
Contents
Setting up and understanding Master pages
Organising and planning your document
Using layers
The page tool (multiple page sizes)
Formatting text like a pro
Understanding text frames
Advanced use of graphics
Advanced use of effects (plus when and when not to use them)
Transparency
Shadows
A greater understanding of layout and use of space
Transforming objects (Pathfinder)
Working with photographic images and manipulating them in InDesign (without Photoshop)
Using the Pen and Pencil tool to create and modify
Understanding clipping paths in InDesign
Some basic knowledge or experience in InDesign is required. If you are entirely new to InDesign or consider yourself a beginner, we recommend our Adobe InDesign Beginners' 1-day course.
This course is designed for students, designers, marketing professionals, and publishers looking to improve their InDesign knowledge. Whether you are creating work for a client, creating content for your brand, or just honing your skills, this course will provide a more professional workflow level.
Whether your goal is to create books, documents, posters, digital magazines, eBooks*, interactive PDFs*, or other engaging materials, this course will provide you with more advanced skills to give your content a more professional feel. Join us to unlock your creative potential and take your design abilities to the next level with Adobe InDesign.
Our classes are for adults (18+). However, group bookings can be made for those under 18; don't hesitate to contact us at short.courses@dghe.ac.uk.
*Specific skills for eBooks and Interactive PDFs are taught on our Advanced 2-day course.
Outcomes
Make more professional-looking documents with increased control of layout skills.

Learn more essential design principles to enable you to consider all types of document design.

Learn to plan your documents effectively and save hours.

Improve your workflow with time-saving text and image styles.

Improve your Typography skills and text setting.

Have the confidence for your work to be better than a template.

Know when and how to use effects to enhance rather than detract from your work.
The document you design on this course may change (magazine cover and spread, brochure, flyer) but will always focus on the same key principles enabling you to set up multiple types of documents.
Certificate of completion
We understand and appreciate the effort you've invested in your studies, and we want to ensure you have tangible proof of your accomplishments. You will receive a certificate of completion upon meeting the minimum attendance requirement of 80% of your course. Certificates of completion serve as valuable additions to your CV, showcasing your dedication and commitment.
Further Study Options
Take your skills to the next step by joining our flexible full-time course. With only 2 days per week of classes in just 2 years, you can complete a Level 5 qualification in Graphic Design.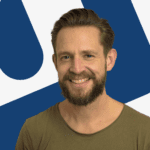 Richard Jackson
Rich is currently a Graphic Design Lecturer for our HND Art & Design and BA (Hons) Visual Communications (Top-up) courses.
Rich graduated from Loughborough College of Art and Design in 1996 and has since worked in advertising and brand communication agencies for many clients, from blue chips to start-ups. With over 25 years of experience, 15 of which in agency and over 10 years as a freelancer, he offers real industry insight and a wealth of knowledge to students across branding, packaging, advertising, print and digital communications.
Rich splits his time between sharing his knowledge and experience with graphic design students while working with clients across London and the UK.
| | | | |
| --- | --- | --- | --- |
| Available Dates | Duration | Location | Investment |
| Tuesday 25th- Wednesday 26th of July 2023 | 2 days: 09:00 – 18:00 | DGHE, 32-35 Jewry Street – London, EC3N 2ET | £300 |
| Tuesday 1st – Wednesday 2nd of August 2023 | 2 days: 09:00 – 18:00 | DGHE, 32-35 Jewry Street – London, EC3N 2ET | £300 |
Discounts available
• 50% is available for all current students and alumni. Please email short.course@dghe.ac.uk if you believe you are eligible for this discount, and our team can advise you further.
• 15% is available for early bird registrations. Discount will be applied automatically if you register for a course at least 1 month before the start.
How to register
Registering for one of our short courses is easy and quick. Please complete the Registration form and select the date you wish to attend. Once you submit your registration, you will be emailed further information and instructions on making a payment and securing your place.