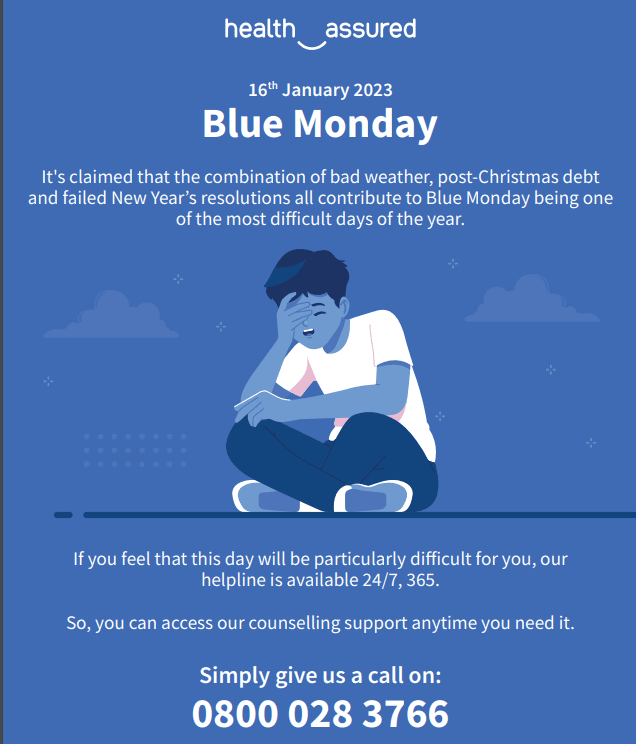 Blue Monday: what is it and what to do about it!
Posted on 17/01/23
We call "Blue Monday" that one Monday that falls in the middle of January, as it is described as the most depressing day of the year. There are several theories as to why this might be the case, but one of the most known is that it is a combination of the post-holiday blues, the cold and dark weather, and the fact that many people have made and broken their New Year's resolutions by then.
For students, Blue Monday can be especially difficult because they may be struggling with other challenges that can contribute to feelings of depression and anxiety.
One of the main stress points for students around Blue Monday is the pressure to succeed academically. Many students return to classes after a break and may be overwhelmed by their course. This can be especially true for those struggling to keep up with their classes or taking exams.
Another factor is the isolation that can come with being away from home and family. For many students, the holiday break is a time to reconnect with loved ones and recharge their batteries. But when the break is over and they return home, they may feel lonely and disconnected from the support networks they rely on. This can be especially true for students who are living on their own for the first time.
How are you feeling today? While it is normal to experience ups and downs, students need to take care of their mental health and seek support if they are struggling. This can include talking to a trusted friend or family member, seeking help from a mental health professional, or accessing resources on campus such as counselling services or student support groups.
At DGHE, you can count on the help of Togetherall, a platform with thousands of other students who are going through the same as you! The platform is open 24/7 and also offers tons of other features that can help you improve your mental health.
If you feel extra blue, you can always contact Fiona, our Head of Student Experience and Wellbeing (f.nouri@dghe.ac.uk). She will guide you through the best channels and support you from start to finish.