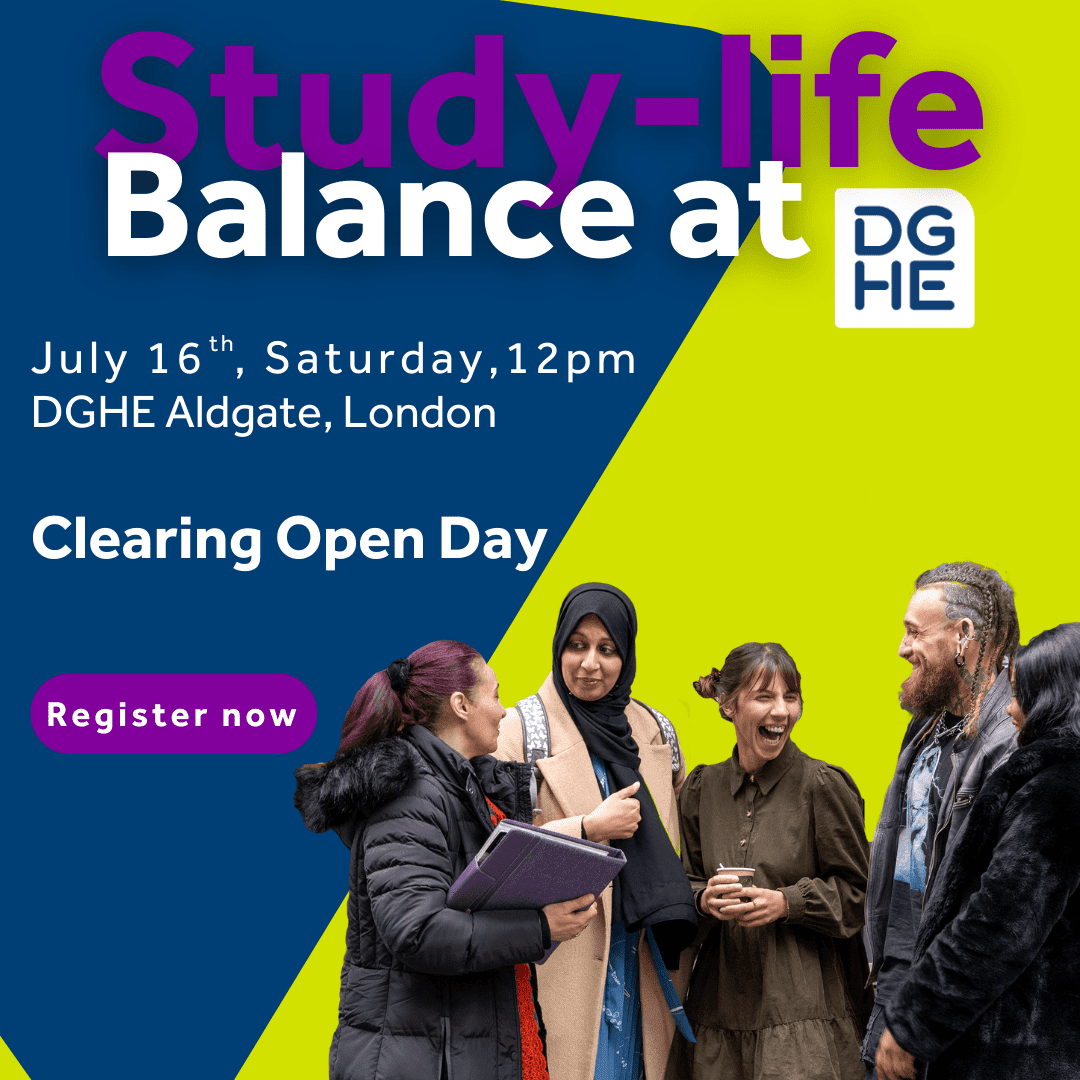 Clearing Open Day at DGHE
Posted on 08/07/22
It's never too late to apply for DGHE!
What do you know about "Clearing"?
Clearing is how most Higher Education institutions fill any places left on their courses after the first wave of student applications. It usually starts in the first week of July, and it gives a chance to students who might have missed the application deadline to start their course in the autumn term still.
This results day, we are here to help. If you haven't yet secured your place, don't panic. Our friendly team are on hand to discuss your options and help you find a course that suits you. Now is the time to start your application. We see your potential and could still make you an offer!
Who can apply for Clearing?
That's the best part: anyone can apply! We have pathways for those with traditional qualifications and mature students with work experience. Clearing is ideal if you decide you want to go to university a little later than usual, or you didn't get the grades you were hoping for, or if you've changed your mind about the course or university you had chosen in your UCAS applications.
Why you should choose Clearing at DGHE?
• High-quality education offering nearly 50-year history and highly competent lecturers with industry experience.
• State-of-the-art campus right in the Centre of London near easy-to-reach transport hubs.
• Study 2 days per week: daytime or evenings & Saturdays.
• Small classes and one-to-one support.
• Wellbeing & Careers services for all students.
• A supportive, vibrant and diverse community.
Ready to apply? Come to our Clearing Day!
Join our Clearing Open Day in our Central London Campus, and you can receive an offer on the spot. Our Admissions team will be there to support you with the application process and take a look at your qualifications. If you are from the UK or an EU-settled status student, Clearing is the time between July-September when you can find a place to study starting this October.
Our Clear Open Day will be on July 16th, Saturday, from 12pm to 2pm at our London Aldgate Campus (32-35 Jewry Street London, EC3N 2ET).
Attendees will have the opportunity to chat with our students, meet programme managers and go on a Campus Tour to check all our facilities. Our admissions team will also be there to help anyone who wishes to apply, and we will also give on-the-spot offers for suitable applicants. Since it will be around noon, we will serve some snacks and drinks fresh from our canteen.
Just click on the link & register to attend! *[no longer available]
We'll see you there 👋