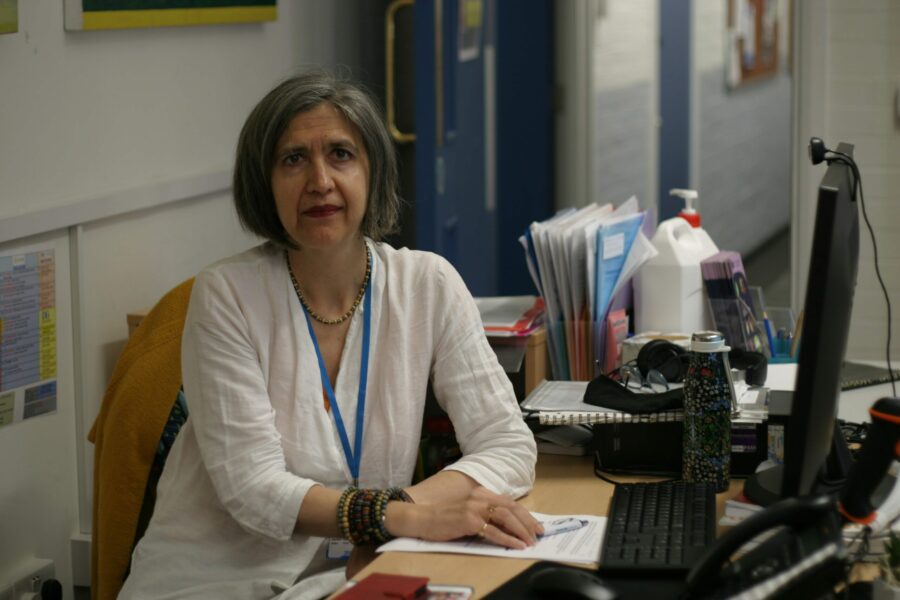 DGHE Library – Meet Mary
Posted on 03/10/23
I am Mary Fisk, the Librarian at DGHE, and I would like to tell you all a little more about the College Library.
The Library holds key print textbooks for your programme of study (selected by Programme Leaders and lecturers). We have multiple copies of many titles. Users can borrow most print books on a 7-day loan and can renew them unless someone else requires them.
We also have a small collection of print journals, which you can browse in the Library, or individual issues can be borrowed on the same terms as a book. This includes the Economist and the Harvard Business Review for our Business Studies courses, and Eye and the Creative Review for Art and Design programmes.
In the library there are computers to access the Student Hub, and Library resources, such as the catalogue. You can also search our databases and eBook platform (Vlebooks).
There is also space for private study.
You can ask me for help with using the Library catalogue, searching for books to support your studies, and using our databases – JSTOR (all programmes), Art Full Text (EBSCOhost), Criminology and Law Collection (Taylor and Francis) and GlobalData Explorer (primarily business and company information but has useful content on advertising for Art and Design). You can also ask me for guidance on resources at our partner institutions, Buckinghamshire New University and the University of Gloucestershire.
Contact
If you wish, you can book a 1-2-1 session with me, either face-to-face, or on Zoom. We can discuss any specific queries you may have concerning library resources for your study.
Use this link to make a Zoom appointment: https://www.picktime.com/dghedropinsession
Or email me at m.fisk@dghe.ac.uk with any questions.
I look forward to meeting you all over the next few weeks.
You can find detailed information about the Library and its resources on the Student Hub at dghe.ac.uk/student-services/student-hub