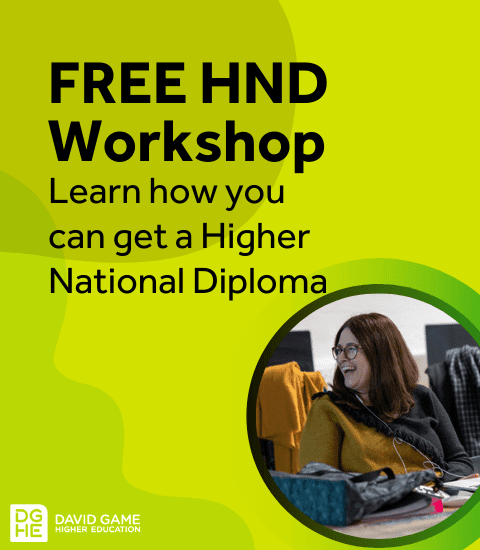 6th April – Virtual HND Workshop: not to be missed!
Posted on 30/03/22
We're offering an online opportunity for you to learn more about Higher National Diploma (HND) offerings, especially the two HND courses we offer that start this May: HND Business and HND Public Services.
When? 6th of April, from 4 pm to 6 pm.
Where? The HND Workshop will be live via Zoom; we will send you a meeting link via e-mail closer to the date of the event.
Click here to register to attend the HND Virtual Workshop!*
What is a Higher National Diploma (HND)?
This is a common question since many people don't know that you can qualify for many careers through a two-year course without completing an entire bachelor's degree. Then, once you have the HND, you can still pursue a top-up in one year to get your full degree. It gives flexibility and practicality, breaking down your education into manageable pieces.
Every few months, DGHE holds an open day. During the worst of the pandemic, many of these events went online. We found a lot of people enjoy shorter sessions remotely, so we're offering another virtual event on April 6th: a Virtual HND Workshop!
We still welcome you to come by for a campus tour, which you can book here!*
What to expect at the Virtual HND Workshop?
This HND Virtual Workshop is a free opportunity to get all your questions answered during an informative session with our Academic and Admissions team. This Virtual Workshop will focus on our HND programmes in Public Services and Business. You will also hear from current DGHE students about why they have chosen to study with us and how is it to be a student at DGHE.
Free session with our Business School
To give you a taste of how we put theory into practice in our courses at DGHE, the virtual workshop will include some group discussions involving all attendees. We plan to guide the workshop through a discussion of a major event that has transformed business.
We'll invite attendees to think about:
● The impact of that event. Is it temporary? Permanent?
● What challenges impact the businesses?
● What questions would you want to ask to learn more about your chosen event's impact?
Free session with our School of Public Services
Crime and deviance have been the subject of interest for centuries, which has resulted in a wide range of theories as to why people commit a crime, and others do not. However, there is an area that has been neglected: women. Despite women making up half of the world's population, their concerns are overlooked when it comes to crime and deviance or are reported in a distorted manner. Any treatment of sex and gender is marginal, reinforcing the idea that it is unimportant and justifying the dominance of other perspectives.
We recently celebrated International Women's Day – a celebration particularly important for our DGHE student fraternity – so we invite you to join our open-day webinar, where gender and crime will be the subject of discussion.
Find out more by attending our workshop!
We will focus on our courses starting in May during the HND workshop. We will provide a step-by-step guide on what the courses include, how to apply and how to fund your studies.
Is an HND right for you? Maybe so if you want to study while working!
We can support you in achieving your ambitions while taking care of your responsibilities. Our courses are offered just two days a week, with both Daytime and Flexi (evenings & weekends) options.
We have prepared an exciting day for you. We will cover everything about an HND, from the application process and course delivery to the student experience and support offered to all at DGHE!
Book your place now! Fill out the form to attend here.
*The event is no longer accepting attendees, contact us for more information on HND's and other courses.