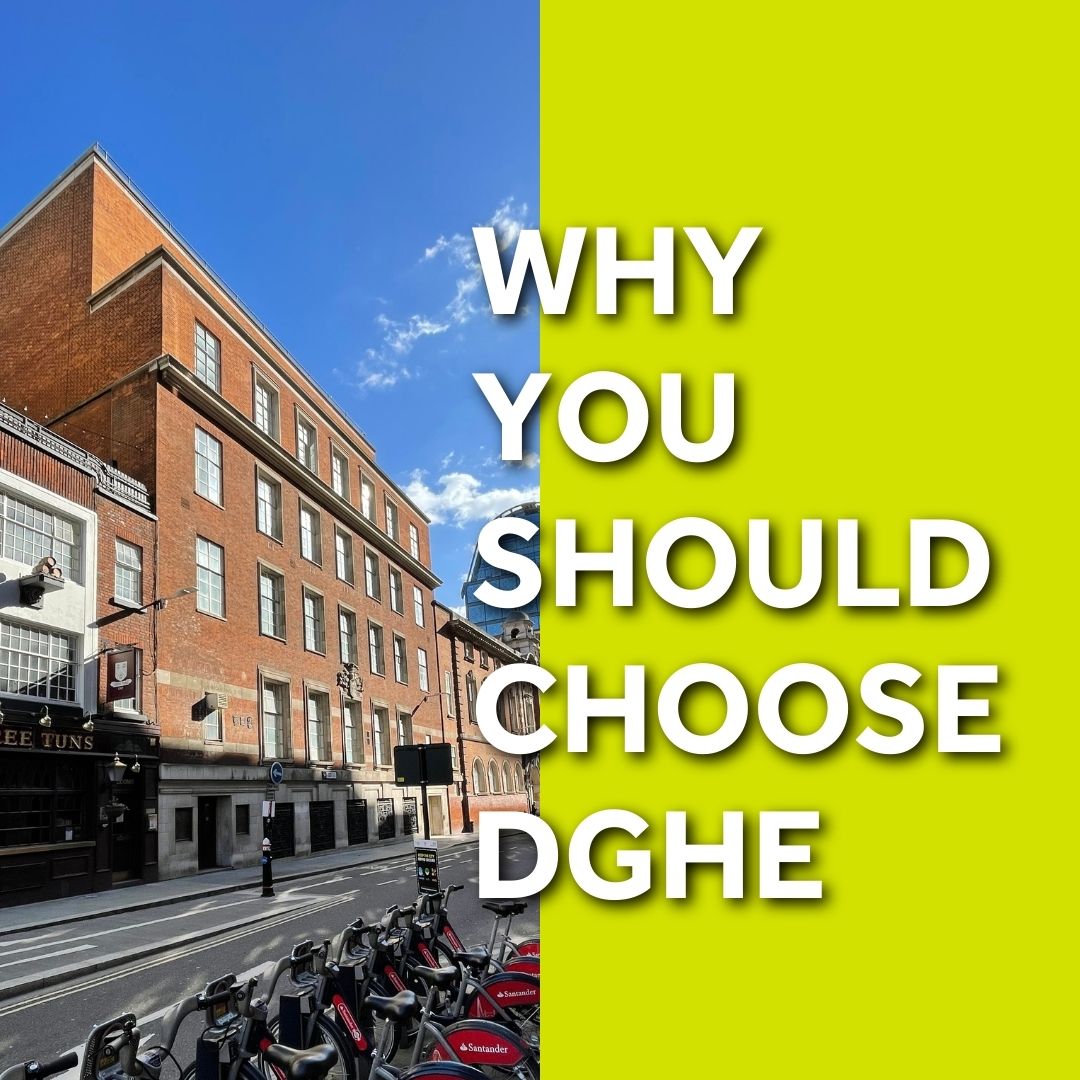 Why DGHE?
Posted on 25/01/23
Why you should choose DGHE?
Starting a Higher Education course is not easy. There's so much to choose from – so many decisions to make. We want to make this journey easier for you. So here's a summary of why we think we might just be the place for you:
DGHE offers a small, welcoming, vibrant, inclusive and supportive learning environment that supports students to reach their full potential and advance their careers. We deliver high-quality, empowering education. Our lecturers offer industry experience and exceptional teaching talent, and students come from diverse backgrounds.
DGHE courses are delivered 2 days a week, or evenings and weekends, to support a healthy study-life balance. Students get tailored careers and mental health support. HND, Top-Up, Foundation and Degree options let students break down the educational journey, one step at a time. We offer small classes and 1-to-1 teaching. Those who choose to study at DGHE will find a friendly and enriching atmosphere to do their best.
The DGHE campus is located in a well-facilitated building in central London, close to many transit hubs including Tower Hill, Aldgate, Fenchurch and Liverpool Street Stations. We also provide online study tools to supplement the learning experience.
Application Process
Applying for a Higher Education course can be difficult and complicated, but we made it simple. No hassle! And we will support you every step of the way.
Step 1: Contact admissions@dghe.ac.uk to get our help to apply! Just email or call us on 020 3220 0347.
Step 2: Upload documents on our portal. Once you start talking with us, we will let you know all the documents we will need from you. We have a designated link where you can easily upload them with a click!
Step 3: Arrange an interview. This step might sound scary, but all we need is to have a quick chat with you. We only want to know a little more about your background so we can place you in the right class.
Step 4: For applicants whose first language is not English, we conduct an English test. The required level for entry is typically IELTS 5.5. If results are borderline, we offer a free online pre-sessional English class. If you already have any of those certificates, you can just jump directly to step 5.
Step 5: Applicant is notified of results, and if successful, sent an offer letter via email.
Done!
Now that you know more about us, how about checking all the courses we offer?