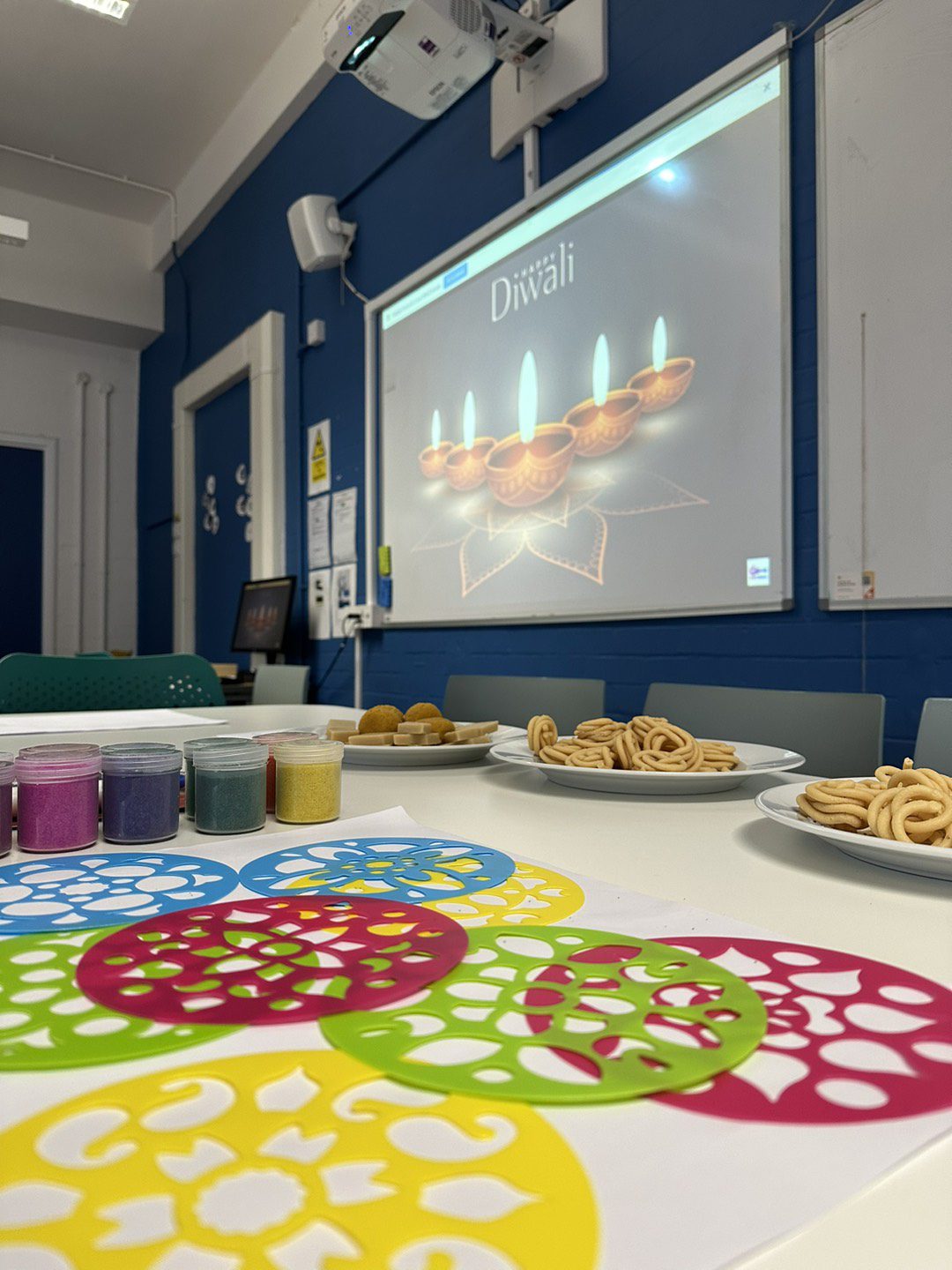 A Colorful Diwali Celebration of Creativity, Culture, and Sweet Delights!
Posted on 10/11/23
Yesterday, DGHE hosted a Diwali Celebration in the college canteen, bringing students together to celebrate the festival symbolizing the triumph of light over darkness.
Diwali, also known as Divali, stands as one of the major religious festivals celebrated in Hinduism, Jainism, and Sikhism, symbolizing the victory of light over darkness. This festival carries deep cultural and spiritual significance, and it was a joyous occasion as we celebrated it together with our students on the DGHE campus.
We gathered during the students' lunch break, immersing ourselves in a Rangoli pattern-making workshop. Playfully experimenting with patterns, colours, and glitter, we enjoyed traditional sweets, sipped on tea, and exchanged stories about our diverse traditions and cultures.
The students crafted beautiful creations, and the sheer number turned this activity into a mini exhibition! Some of these artworks are on display in the canteen on the first floor—so, if you're around, please take a moment to have a look! Of course, no celebration would be complete without some traditional sweets. We savoured Kaju Katli, made with cashews and sugar, offering a rich flavour; Laddu, crafted with gram flour, sugar, and spices; and Murukku, a twisted delight made from rice and lentil flour, providing a delightful mix of textures.

The Diwali Celebration at DGHE brought our students together to celebrate creativity, culture, and unity. We would like to express our gratitude to everyone who joined us yesterday, and once again, Happy Diwali to everyone celebrating! We look forward to more celebrations that unite our diverse community in the spirit of joy and festivity.